STB x Shentonista — On The Record
Featuring
Nick Bong and Leon Wan, Store Managers of The Analog Vault, and Louis Quek, sound designer/music producer
Music
We might be living in a digital world, but analog is making a comeback, especially in the local music scene. These days, record stores are more common than you might think, and vinyl collectors aren't just in their 40s or 50s. Teens and young adults are starting to appreciate the allure of records, despite the higher costs. And it's not just oldies and classics that you can find in these record stores—even modern-day artists like Taylor Swift and Alt-J, and homegrown bands like .gif and Coming Up Roses release vinyl records alongside their digital albums. But what exactly is the appeal of vinyl records?
To find out, we speak to Nick Bong, Store Manager and Sales & Marketing Executive at The Analog Vault, an online and offline retail establishment offering a curated selection of vinyl records and other music-related analog goods.
In the heart of the Esplanade, Nick and The Analog Vault team are championing the analog music culture in Singapore, while also supporting local artists (they have a whole section of records dedicated to Singaporean bands and music). Over the years, they've built up a tight-knit community of music lovers and consistently share new music through online playlists and, in pre-COVID times, in-store events. In the next part of our series with Singapore Tourism Board, we talk all things music, from Nick's personal favourites to the growth of the local music scene.
Vinyl records can be quite pricey, but they're still very well-loved by collectors and music-lovers of all ages. What is the unique appeal of records?
Records are not perfect. You're always gonna have some kind of imperfection. For the people chasing perfection, just stream it (laughs). Vinyl records have lots of moving parts, and can be dinged, dusty, a little warped. But it's your copy and only your copy has a ding at that part of the song, and you remember where it is.
How is the interest in analog in Singapore at the moment?
There are a few specific groups of people. There are people who've just never stopped collecting records. And a lot of them are in their 40s and 50s now, so they know a lot more than me. They school me all the time—what records are great, what (signal-to-noise) ratios are great or not so great. And then you get the younger ones, like myself or younger, who don't really care about all the technical details but just want to explore music. There're a lot of different perspectives, really, with the people who buy records.
Can you tell us a bit more about your store space in the Esplanade? Given that it's a centre for the arts, does it help you to better connect with the music community in Singapore?
When artists perform here, they often come by, and we definitely get to share chats with plenty of musicians and music lovers who come through the Esplanade, so we're pretty connected with the community in that way. These interactions are kind of by chance, and we get to meet most people who perform, especially those playing at the concourse, which is right outside the store. For example, during Jazz in July, the Esplanade programme we have, we got to talk to most of the musicians playing, and that was a good way to connect with the jazz scene. It's very splintered now; we don't see enough of jazz music thanks to jazz not being as popular.
While Esplanade is a niche space, people that come here are the general public. It's nice to get to introduce people to records, and tell them that, "yes, people still make and buy records." Having a tight little Singaporean music section also helps!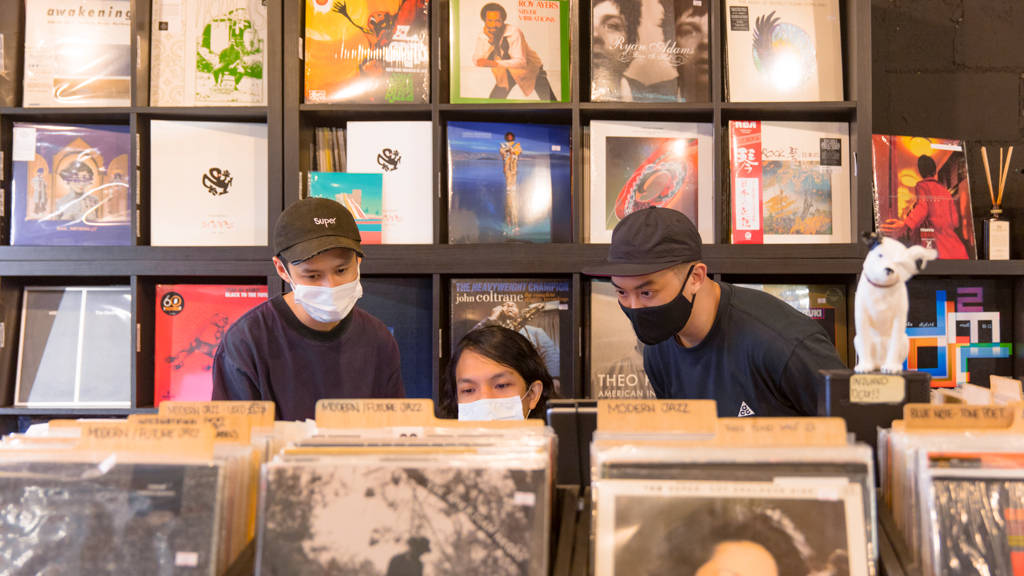 How many records do you have in total and how do you curate them? Are they mainly new or pre-loved?
We have around 3,000 to 4,000 new and used records each. So close to 10,000 in total. We definitely have a strong jazz backbone here, but are also constantly looking for anything progressive or out of the ordinary. Lots of classics here too, and of course, we like to support and showcase Singaporean music as much as we can!
What can visitors expect when they step into The Analog Vault?
We hope to create a space where people can explore music. We're really not a shop where you come and rattle off a list of classic records that you want to buy. We do stock a lot of classic stuff, but we'd like to be a place where people come and try new stuff, or listen to something they haven't heard before. We also have a nice sound system. We offer whiskey to customers who buy a lot!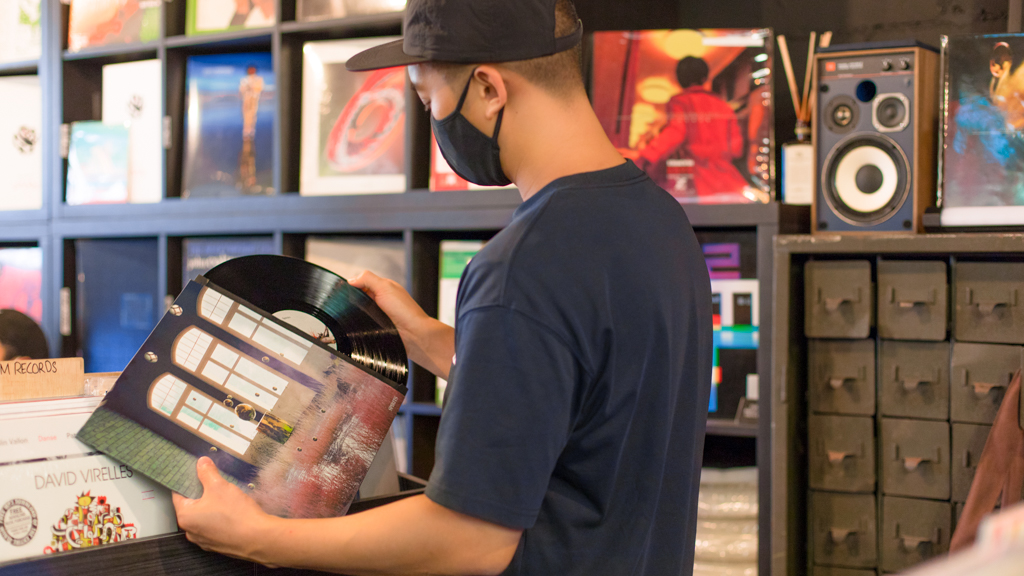 You mentioned that you have a Singaporean music section in-store. How has the local music scene changed over the last five years, and where do you think it's headed towards?
I mean, who knows, really? (laughs) There are a lot of venues that have been lost in this pandemic, but there are also lots of new spaces popping up. I think this pandemic has made us realise how much we miss music. It used to be something we took for granted, right? I think we're gonna see a little bit of a boom when things start to open up again. But that might not be a good thing (laughs). Maybe some crowds go to gigs just to party, and not for the music. It might be chaotic for a little while.
How can we best support local musicians through the pandemic and beyond?
Support their live performances. I think that's key. Physical sales don't really account for much. In Singapore, how many people buy records, tapes or CDs? But everyone goes to gigs. That's kind of where the money's at.
We know you used to host in-store events (OutIn sessions) before the pandemic. Can you tell us more about them? Do you have plans to host more events when things open up?
For OutIn, we used to ask DJs and artists to do a mix and we'd promote them. But now that we can't have in-store events, we started to put more into our Mix Series, where we work closer with the artists, ask them to submit a mix, and do an interview and write up of it. It's just kind of an extension of the OutIn series.
In the future, we would like to do a TAV Records (The Analog Vault's record label) event if we can find a way to do it (laughs). We're going to have a release coming soon; we're waiting on test presses actually. It should be out in the first quarter of 2022, so we'd like to have like a big TAV Records party.
What kind of music do you personally enjoy, and what are some of your favourite records?
The team's collective tastes are reflected in our curation in the store, but here are some of my personal favourites:
John Coltrane & Johnny Hartman — John Coltrane & Johnny Hartman
Miles Davis — Kind of Blue
Guru — Jazzmatazz
Fauxe — Ikhlas
.gif — Hail Nothing
Intriguant — Spirits
The Analog Vault
8 Raffles Avenue, Esplanade Mall, #02-10, Singapore 039802
Open 1pm to 9pm Monday to Sunday
Website | Instagram | Facebook | YouTube
This series was produced with the support of the Singapore Tourism Board's SG Stories Content Fund Season 2. View more stories here.
What others are saying
There are no comments yet.