Shentonista Mothers – To Build A Home
We all grow up with the casual assumption of what makes a family: the perfect formula of two parents and two kids that most of us are familiar with. Yet there are many unconventional families who navigate daily life the best way they know how: by taking each day one day at a time. Sherlin and her two children are just one of the families who've had to rework old rituals and forge many new habits, but Sherlin believes the trick is about knowing that no matter what challenge you're faced with, you'll eventually find a way to conquer it—as long as you have each other.
It's been a hectic time of change for you and your loved ones—how have you been coping with it so far?
It's all about taking things one day at a time. The first couple of weeks were a little bit bumpy, but then we began to slip into a routine so it's gotten easier. What's different about ours is that I'm more of a night owl, so I tend to sleep at 2AM and wake up at 10AM. The kids are quite independent, so thankfully that works out for our family.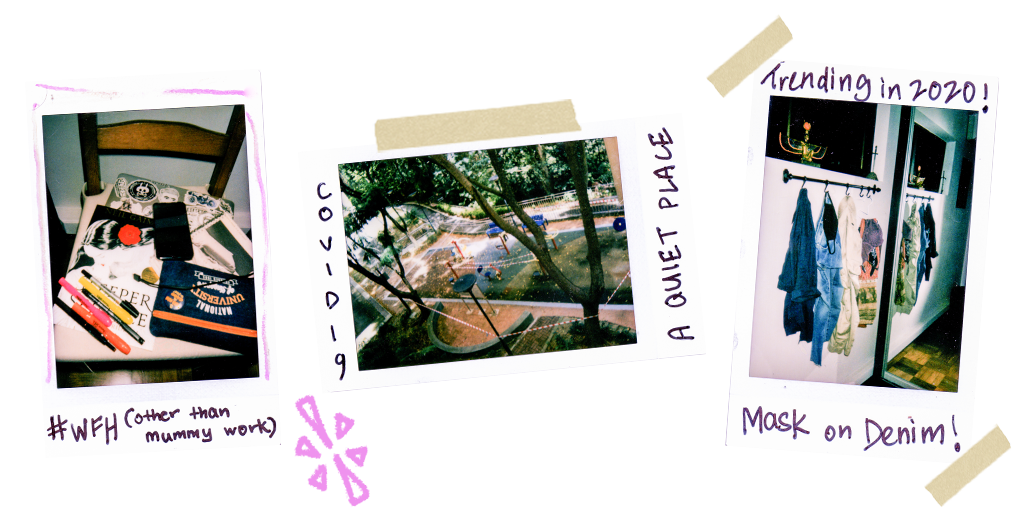 As the parent of two kids, how has it been trying to manage your own WFH routine and your children's home-based learning?
I tend to sleep in most mornings, so we always prepare the home-based learning station before they head to bed the night before. I've managed to hook up a keyboard to my old Macbook that has a spoilt keypad so with that and their laptop, the kids have one work station each. Just improvise!    
Shiraz, my son, is actually doing his PSLE this year, so we've been a little tense about that. Not so much because of the SLS (Student Learning Space) arrangement, but more about the rest of the academic year and all its uncertainties in these unique times. Samara, my daughter, is currently in Secondary 2, which is an important streaming year but at least it's not a national exam.
With school holidays brought forward, do you think the stay-home experience will be a little smoother?
Well…(laughs) at least with school, there was a sort of structure to follow, but when they're on holiday with no school-imposed daily deadlines…we'll see how it goes. They've already been spending so much time in front of the screen, but I can understand why. Our pre-COVID weekends were all about socialising, so it's hard not to have that and to be away from our extended family. 
First thing you'd like to do after circuit breaker?
Meet my extended family—my mum, sisters, brother-in-law and niece. We're quite tight-knit, so I'm definitely missing them. We enjoy eating together, so we're looking forward to doing that again and simply spending time as a family.
Tell us a little more about your children—what's something unique about each of them?
Samara's the older of the two and enjoys social interactions. We often have long conversations together about growing up and life in general. She's very independent when it comes to school work—something I'm grateful for, because I don't want to tackle secondary school math, thank you very much! She's definitely the more extroverted of the two.
Shiraz is my movie buddy—he's the one with whom I'd watch Avengers and other Marvel films. He's the one who will come up to me, grin and say, "Mummy, can we have some mother-son bonding time over my Malay comprehension?" Cheeky fella! He's also quite a gamer and enjoys his PS4—a lot. He's not one to indulge in words all the time but when he does start talking, boy, does he have stories!
Now that you're a parent, were there any moments of realisation (whether in joy or horror) that you had turned into one of your own parents as well?
I think nagging is something I have in common with my mother. That, and the practical approach to cooking. We're rarely the types who'd involve everyone in a day of fun in the kitchen and then put up photos afterwards on Facebook. We cook to feed! (laughs) 
What's one of the biggest life lessons you've learnt watching your mother?
It's hard to encapsulate into one word, but I'd say resilience. She's a single mother as well, like me, and she's never settled for less. For her it's always been, "I'm a single mother, so what?" She worked hard to make sure we grew up well and creates her own standards, till today. That drive and resilience is something I've learned from her.
I hope my children learn these traits as well. I'm not the type of mother who smothers my kids—it's more about giving them the tools to succeed so that they make wise and informed choices with the independence I give them. 
As a single parent, what do you think are some differences in your own journey as a parent that others might not face or understand?
Here, hold my beer! (laughs) There are a lot of differences! Every day, a situation will crop up that makes me think it'd be so different if we were a typical nuclear family. I think something that hits me the hardest is that I can't split myself into two people, you know? If I needed to be at one place for one kid while also getting something done for the other at the same time, there's no physical solution to this. Not in this quantum realm, at least!  
Once, my son had quite a bad injury and we needed to rush to the hospital. I couldn't leave my daughter alone at home so I brought her along with us. As we were there till pretty late, I had to email Samara's teacher to let her know that she wouldn't be able to make it to school the next morning. These are the times when I have to confess my situation and adjust to make exceptions. 
What were some fears you had at first when you became a parent?
When I got pregnant with Samara, I naturally had some uncertainties, like many new mums do. There was definitely a lot of planning involved between her dad and me.
When I made the decision to become a mum, I told myself that it was going to be the most important thing I was to embark upon, so I had to do it right, in my own way. And that's the best advice I can give any parent—do what's best for yourselves, to the best of your abilities.
Do you still have those fears now or have they changed?
I think we've gone through quite a bit of highs and lows, enough to that know any fear I might have can and will be overcome. Losing my husband in a car accident in 2013 was the worst possible thing that could happen to us, but as hard as things get, we've learnt what it's like to roll with the punches and take things one day at a time. 
Share with us some of the biggest challenges you've faced in your parenthood journey.
Wah, there're so many (laughs). The very fact that I am a mother is quite unbelievable. For some reason, I wasn't one of those girls that people expected to grow up to be a mum. I suppose there's some stereotype I don't quite fit. Like every other parent, I've learnt along the way and continue to do so everyday. But one thing I know is that you can tackle almost any challenge if you have those who matter most by your side.
What are some things you'd tell a new parent?
There is no wrong way or right way—in fact, there's no way (laughs). It's an adventure! You make your own way as you parent.  Make informed decisions but most importantly, despite everything everyone else will try to tell you, trust your own inner wisdom. 
What others are saying
There are no comments yet.