Family Pawtraits — Groundwork
Pat, social marketing, pants from GU
Tails, female chihuahua
Rebel, male chihuahua
Rebel and Tails somehow found their way into Pat's life. Rebel was a Christmas present, back from 2005, while Tails had been rehomed to one of Pat's ex-girlfriends, Candice, 4 years ago. After they broke up, they decided that their kids, as Pat calls them, shouldn't need to be kept apart, and so most days, they stay with Pat, except when she travels for business. Pat's dogs are very much a huge influence in her life; she even quit her old job after Rebel taught himself how to play fetch because she was never home. It seems that her kids have offered her new perspectives on life and living, which, in turn, have helped her to focus on what really matters. After a bit of barking and some food-related bribery, we got comfy in Pat's place and spoke to her to find out more.
Shentonista (S): Was it a childhood/lifelong dream to have a dog, or something that you only considered as an adult? Was there a reason you decided on this particular breed?
Pat (P): I guess I've always wanted a dog. It wasn't really like, "Ma, I want a dog for Christmas", so I could live without it, but it happened very accidentally. My first dog was Jessie, a chihuahua, and I found her  back when I was in secondary school, at Tampines MRT station. Once I got to know her temperament, I realised she had been abandoned. She had no leash on, and was in the middle of a crowd — you can't put chihuahuas in a crowd without a leash, it's like suicide. I put an ad out on Classifieds, and nobody came forward, so I brought her home and I just kind of made sure that the mother accepted it, lah. (laughs) The year after Jessie died, my then-girlfriend knew that I missed Jessie, and got me Rebel.
S: What were some of the initial problems or challenges that you faced as a new pet owner? 
P: Jessie was very easy, because she was an older dog. She and Rebel were very obedient dogs, right from the beginning, whereas Tails needed a bit more time. Rebel is a bit dumb, and he took about a year to be toilet-trained. After six months, he was toilet-trained, but then he untrained himself.
S: You mentioned that you've had Rebel since 2005, but Tails only joined the family 4-5 years ago. Was the introduction challenging or difficult? 
P: Tails was a re-homed dog so in the early stages, she took some time to warm up to us. I remember the first time my ex-girlfriend and I took Tails out for a walk, she ran away from us! I'm very glad Candice chose to adopt rather than to buy a dog — Tails is a gem in spite of her tendency to bite me whenever I disturb her. (laughs)
S: How did Rebel take to Tails initially? Was he receptive right from the beginning? 
P: Rebel was like "WOOOOOT! V*****! I WANT!!!!!" from the get-go. Embarrassing but true. He's friendly with all bitches. They took a while to get used to each other; Tails has her spots (from the pillow on my bed to her favourite chair) whereas Rebel will just take any spot that Tails doesn't mark. We reached a milestone when the both of them shared the bean bag together. Now, they've gotten quite close — they even pee together, like a bunch of girls. Don't ask me why. Tails is more protective over Rebel when other dogs are around, and would dash up to attack any dog who tries attacking Rebel. The latter however, would most certainly trip on big dogs hitting on Tails. I think they also know when each other's not feeling too good. When Rebel wasn't feeling well and eventually had an open heart surgery, Tails stood by Rebel's side to keep him company the entire day. Although, in contrast, Tails has just pulled her leg, again, and Rebel is too busy humping my leg to realise that Tails is injured. Men, can't trust them.
S: Do you think your lifestyle has changed in any way? 
P: I had just started out in the ad industry and it got to the point where Rebel taught himself how to play fetch, because I wasn't at home. It was very sad, and I actually quit my job after that. I have to be there for him even more now, because he just did an open-heart surgery. I think there are less than 10 doctors  in the world who could have done it, and I had to choose between flying Rebel to Japan, or flying the Japanese team down to Singapore, and I did the latter. He needs to be on medication for the rest of his life, so no matter where I go, whether I go partying and all that, when I come home, I have to be very sober now lah, because I have to feed him! (laughs)
S: What's your favourite activity to do together, as a family?
P: Every weekend, by a certain time, they give me The Face and I know I need to bring them for a walk. They recognise this cupboard in my house as the magic cupboard, where the leashes and everything are.
S: What are some traits or quirky characteristics about Rebel and Tails?
P: Rebel is a very loving dog. When I get home everyday, Rebel will go find a toy, hold it, and run to the door. He needs to have a toy in his mouth, I don't know why. The Minion was the funniest because it was bigger than him and he was struggling to run with it. For Tails, I have to lie down on the floor and she'll jump on my chest. In the morning, Tails will bark before I leave, while Rebel will just accept his fate and stay at the side with the most emo face. At night, Tails has her own pillow, and sometimes she becomes a bit of a diva and she takes my pillow, and I have to share it with her. Rebel will sleep anywhere, usually by my feet, and he'd start marking me by licking all over. Rebel was a Burger King model; he had to be dressed up in an octopus costume and the shoot went on for more than 10 hours. I tell the weather with Tails. When its going to rain or is raining, Tails becomes super duper manja and needs human contact.
S: Do you ever feel the pain of leaving your dogs at home while you leave for work?
P: Yeah, all the time, for sure. I think it's the case for any dog owner. They do cross my mind at work, especially when Rebel was sick. Technically, for this breed of dog, the worst thing that could happen and would probably happen is that they'll die of a heart attack. The good thing is that it's very quick and fast, but the bad thing is I could come home to one dog dead, and the other one next to it just waiting for me to come home.
S: In your opinion, do dogs belong in the workplace, or should they be left at home? Why?
P: I bring them to work sometimes. Tails used to jump a lot — she would jump from a chair, to the edge of the sofa, like a cat, and she pulled a muscle, eventually. So when that happened I tried moving furniture around but I thought that it would be faster if I just bring her to the office. She ended up jumping all over the desks. I think when you have a dog in the workplace it just brings more life, and in an odd way, humanity into the picture. People are more affectionate. They're also very good guard dogs, so when somebody comes, like a courier man, they'd run all the way to the entrance. I can bring my dogs to work everyday, actually, but I don't only because they're a bit distracting. Rebel needs a lot of attention when I'm around.
S: Do you think your style has changed at all when you got a dog? Are you more careful with the things you buy and where you leave your shoes/clothes?
P: I've been very fortunate. They don't bite on stuff. Rebel, as a puppy, used to chew on things, but that was when he was teething, so that was understandable. I actually have a lot of dog-unfriendly stuff around, but I have to be really careful with chocolates because it's potent for them. Tails has eaten an entire box of Godiva's before. In my defence, it was on the sewing machine table, and she managed to jump on it and ate the whole thing. So I was like, okay lah, worth dying for, okay lah, fine. She turned out okay, and I was very, very thankful. But yes, I have to be more careful about food.
S: What are some of the items in your wardrobe or on your dresser that you can't live without?
P: When I travel, it's actually my travel amulet, which I carry in my bag. A must-have item would be my hat, because there are times that I wake up too late and I cannot blow-dry my hair, so I need my hat. I do wear a watch; I have this very old 1982 Rolex Perpetua. The thing is, it works, but I just have to wind it every day. I end up being the one who cannot be bothered to wind it because I have a phone to tell time, right, but to someone who doesn't know me and sees that watch, they're like, pretentious idiot, it doesn't even work (laughs). But actually I'm just damn lazy, I cannot be bothered. I wear it because it's nice mah, it matches everything. Watches, for me, are an accessory.
S: It's a new year, and the last time we spoke to you was the middle of 2015. Has anything changed? Is there anything you'd like to do differently this year, or something you're hoping to do? 
P: Keep doing good, I guess. As the founder of a local agency I guess it's defining what a local agency should stand for. And being happy, having fun at work. There are a lot of things that money really cannot buy, and I would like to work towards that.
S: Could you tell us a bit more about your GOODSTUPH products over at The Damn Good Shop? Those Singapore & Co. Election t-shirts for example, or the Bad Nails, or the Adverjargon Notebook. A lot of the designs seem based on personal experience, super funny, and are very Singaporean-ised. 
P: The designs are contributed by everyone in the company, and the only criteria that we have is that it must stay true to our DNA. Initially it started as a bit more nostalgic, like old Singapore and things, but then we decided that it should be a bit more defined to what GOODSTUPH stands for. When we did the stone lions with FLABSLAB, for example, they're more distinctively Asian than Singaporean. The female lions had C-cup breasts with a Chanel necklace — because we can, basically. The election t-shirts actually had a bit more meaning. We wanted to find out: if you had to pay $25 for a vote, who would you really vote for? It becomes more accurate that way, and we wanted to find out the results in that format. We're also going to have Fu Lu Shou toys that you can put on your desk. They're based on prosperity, status, and longevity, and they're usually these ugly things that you see, and we did our own rendition. Ours are based on communist leaders — Ho Chi Minh, Mao, and Lenin — and added our local twists. The kopi cup, for longevity and a lot of water in your life; a mahjong fa tile for prosperity, and a super-big iPhone, for status. So we do all this, generally because we can. And it's never cool to tell people that you're cool — just do something, lah! Show, and don't tell.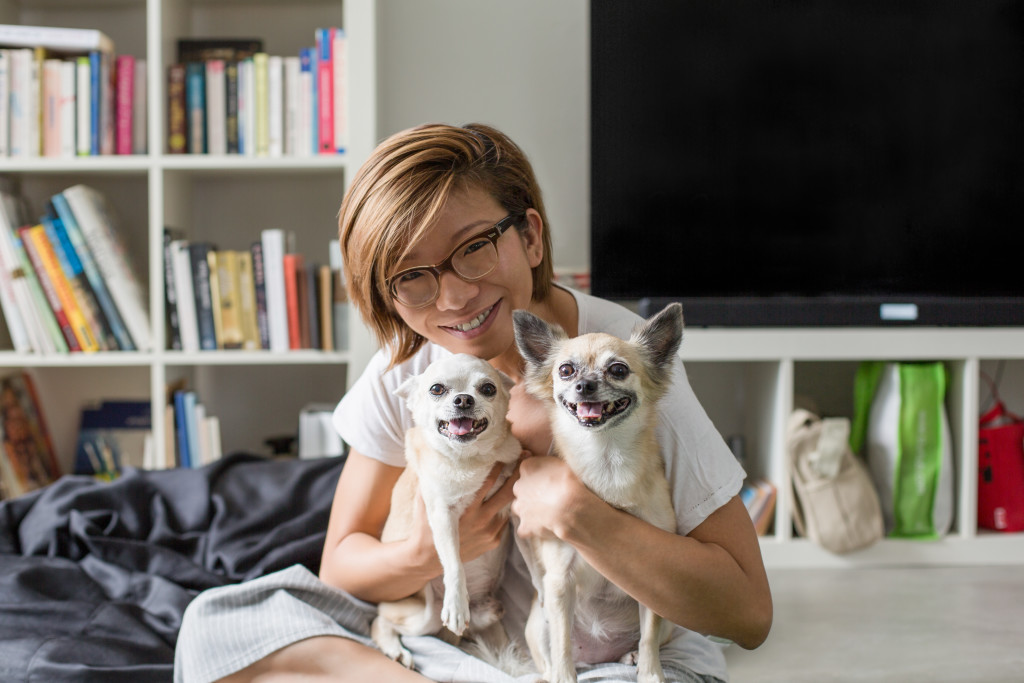 This is a Shentonista project in support of Save Our Street Dogs Singapore.
The next SOSD adoption drive will be the SOSD Flag Day on 28th February 2016, at *Scape Youth Park, in hope of raising funds for when SOSD's lease expires in two year's time. The event runs from 9AM-6PM, with the drive running from 11AM-5PM.
If you would like to contribute to SOSD and support their cause of giving stray dogs a loving, caring home, please visit here. Kindly reference ShentonistaxSOSD when making your donation. The dogs thank you! 
Here are two of SOSD's dogs that are looking for a new family:
Asia
Female, HDB-approved
Asia is friendly with both humans and dogs. Only 5 months old, she is already becoming a feisty lady;  energetic and enigmatic like her name. She has a high energy level and isn't one to sit still for too long.
Sunday
Female, not HDB-approved
We're not quite sure how big Sunday will grow, but with her long, almost daschund-like body and friendly, open face, she's quite the charmer at just 3 months of age. Focused, and food-motivated, she has a medium level of energy.
Update (25/02): Sunday has found a forever home.
View more of our furry friends looking for forever homes on the Shentonista Facebook, here.
What others are saying
There are no comments yet.