Family Pawtraits — The Litte Things
Alice, vet, dress from ASOS, sneakers from New Balance, earrings from Feed My Paw
Martin, musician & music teacher, shirt from 2401, shorts from H&M, sunglasses from Ray Ban
Billie, female French bulldog
Billie wasn't always this well-loved; she was an ex-breeding dog, holed up in a pet farm for many years, and her stomach still bears the scars of the numerous Caesarean operations she's had throughout her lifetime. She used to be more timid, but with Alice and Martin's love and care, Billie is slowly opening up and smiling her toothy grin more often. As an older dog, it's not always easy to care for Billie; she's fussy with her food, and has heart problems, and she requires medication every day. So it's the small things that make this trio happy; whether it's a simple picnic in the park to celebrate Billie's birthday, or seeing Billie curl up on her favourite watermelon cushion at home. Billie was the star of today's shoot; by far, the easiest dog we've photographed, even though the sun got in her eyes, and she hardly moved once she got into position. It's clear she's grown attached to her new family, and finally found a place to call home.
Shentonista (S): When did you get your Billie?
Alice (A): We just adopted her about two months ago. We're not exactly sure how old she is, but we're estimating her to be about 8 or 9. We don't know anything about her past.
S: What is Billie's personality like?
Martin (M): The word is "chill" lah, she's very chill.
A: She's quite affectionate with humans, but she doesn't like some dogs.
S: Does she bark at them?
A: She's been de-barked; when we adopted her, we realised that she actually has no voice when she barks. I think she's been traumatised before; when she sees some male dogs she'll bark, or at least try to bark or charge at them. She's definitely more friendly with humans.
S :What's your relationship with Billie like?
M: Somewhat slaves to her. (laughs) We are her humans.
S: Would you say you're like her caretaker?
A: Ya lah, she's actually quite high maintenance because she's a bit older. Her appetite can be erratic. She has to take four pills a day for her heart.
S: She seems quite camera-friendly. Do you guys always take pictures of her? She seems to know where the camera is. 
A: We take photos of her but we never realised she's so camera friendly. It's strange, we thought she'd be moving around during the shoot, or be distracted, or not looking at the camera, but surprisingly she was okay.
(Billie was more than okay; she was focused and even hammed it up for the camera.)
S: Is she motivated by food or toys? 
A: It depends.
M: Only sometimes, when she has her appetite.
A: When she's around other dogs, when there's 'competition', that's when she'll want to eat. So let's say if there was another dog here, eyeing her papaya, then she'll want to eat it. Right now she's not that interested. I think it's also because she used to be at a breeding farm…
M: …where she always had to compete for her food.
A: Now it's like, we can cook a huge meal for her, but she'll just sniff it and walk away. If you add another dog to the equation, though, then she'd gobble it up.
S: Was it a childhood/lifelong dream to have a dog? Did you grow up with cats or dogs?
A: I grew up with a cat but my family really hates animals. My mom is just: "no animals". My brother and I found our cat as a kitten; we picked him up and hid him in the room for a few days till my mother found out. I live with my grandmother and she really hates animals too —  she's the grumpy old lady sort who would chase cats away with her umbrella. My mom, aunties and uncles all don't like animals, so we kind of forced it upon them lah.
S: So are you more of a cat or dog person? 
A: Actually I started off being a cat person, then I got my first dog (Billie is my second dog) about 4 years ago. I was converted. Dogs are more affectionate; cats are like, you're my slave.
M: My mom hates cats but I have a cat at home. So I kinda forced it upon my mom too.
S: Does Billie get jealous when she smells cats on you?
M: No!
A: She's actually scared of the cat.
M: My cat is a real bitch.
S: What were some of the things you considered before getting a dog/cat, or some things that you think anyone should consider?
A: Everything. Commitment. Time. The cost of owning a pet. And then of course, family members.
M: We've always wanted a not-so-hyperactive dog, one that fits our lifestyle. We're very relaxed.
A: That's also why we like senior dogs who are very chill and lower maintenance. Imagine if we got a puppy who's very hyperactive — I don't think we could manage.
S: You've both said that you have a preference for senior dogs, which also means they'll have a shorter lifespan. How do you prepare yourself for that? 
A: We adopted Billie and our previous dog, Ori, knowing that they're old and have certain health conditions, so in a sense, we are already mentally prepared and have realistic expectations. We just want them to live their lives and feel loved, even if it's only for a while. It's not about how much time we have with them, but how much we can give to them.
S: Was it difficult to own another dog after you lost your first one? We hear you were pretty devastated. 
A: It has been one year since we lost Ori to cancer but there are still days where we miss him tremendously. A lot of our friends had asked us if or when we were going to get another dog, but we met Billie, by chance, at an adoption drive. It was not a difficult decision to adopt Billie even though we knew that it would be a challenge because of her traumatic past and health issues. We just hope that we will be able to help change her life for the better.
S: Do you leave Billie alone at home?
A: Some days we leave her alone at home, but I think she doesn't like to be at home just because she been with other dogs for awhile.
M: We drop her off at Alice's auntie's house where there's another dog.
A: It's either that, or I bring her to work with me where she hangs out with the other dogs. Because when she's alone at home she doesn't want to eat; she needs company, a furry companion.
S: What were some of the initial problems or challenges that you faced as a new pet owner? 
A: I think right now we're probably still going through it because she's very fussy with her food. We'd cook a lot of stuff but she'll still not eat the whole day, sometimes even up to 24 hours. Medication, too. If we put it in her food and she smells it, she walks away. On some days, when she's good, she'll eat it, but if not, I'll just have to open her mouth and force it in. It's not very nice, and I feel horrible doing it, but she needs to take her meds.
S: What's her favourite food to eat then?
A: She likes papaya. She likes meats — chicken, salmon.
M: And chicken feet! (laughs)
S: What would you say is the biggest change in your life after you got a dog? Do you think your personalities/lifestyles/habits have changed in any way? 
A: For me it's my lifestyle. After work, I just want to go home and spend time with Billie. Priorities also revolve around the dog  — even when we want to travel, we'll be like, "Who's going to take care of our dog? Should we even go away for that long?" And if we go away for too long we feel quite bad as well.
M: Yeah, I used to like to go out, but I want to go home now and chill with her.
A: On our off days, we try to think of dog-friendly places that we can take her to.
M: We always try to include her in our day, especially when we're going out.
S: Do you have a certain fond memory of your dog e.g. a time when he/she did something very naughty, very sweet, or got you very worried? 
A: When we found out about her heart problem, we were very…
M: …we were very sad.
A: Devastated. When we first got her, she was very depressed.
M: Even slower than she is now.
A: She was very, very, very slow, very depressed and just a very unhappy dog. I think it's because of her past. But three or four weeks after we got her, she started getting excited when, for example, we came home. You open the door and she starts acting like a puppy and then she jumps up on you, and wags her tail. When we first saw her wagging her tail and getting excited by our presence, that was nice lah.
S: You mentioned that you bring Billie to work sometimes, does she enjoy going to work with you?
A: She does. We have another rescue dog there, a German shepherd, and my boss's pug is there as well. She quite likes hanging out with them. They'll all sleep on the same bed, and beg for papaya together.
M: She'll eat while she's there lah.
A: Yeah, she's very active around other dogs.
S: In your opinion, do dogs belong in the workplace, or should they be left at home? Why?
A: It would nice if they could come to the workplace with us, but sometimes it's a bit difficult to take Billie with me. Some cabs don't allow dogs, and if I had a car, I'd definitely bring her to work everyday.
S: Martin, do you feel the same way?
M: Not at my workplace, because it's very noisy.
(Martin also teaches at a music school, Thunder Rock School)
A: We used to bring our previous dog, Ori, to his workplace, because he's deaf (laughs). The drums and the loud noises didn't bother him.
M: He was like, "What drums?"
S: How did you come to be doing what you're doing now? Was this something you've always wanted to do?
A: I think ever since my brother and I picked up that stray kitten — I think that was when I was 12 or 13 — I really wanted to be a vet.
M: I guess I've always wanted to surround myself with music, since secondary school.
S: If you weren't working in your current profession, what would you be doing? Or, if you could do anything you wanted to do, what would it be? 
A: I think I'll still be doing something animal-related. I can't be a 9 to 5, desk-bound kind of person so either I'll be working in the zoo or I'd be a vet nurse, perhaps.
M: I think I would still be a musician!
S: What would your ideal workplace be like, in terms of the actual physical space and the office environment?
A: I'm actually quite happy with my workplace because we're all animal lovers, and it's an animal clinic. I think that's perfect for me. Our clinic is not very big but it's cosy, which is what I like.
M: Definitely a bigger space for me. Right now the school is in a shophouse, and we have 6-7 rooms. It'll be better if it could be a bit bigger. As for people, everyone in the music scene is quite chill.
S: If you had to wear a uniform of sorts for the rest of your life, what items would your outfit consist of, and why?
A: Something comfortable. Probably like T-shirt, jeans and sneakers.
M: Same.
A: Which is actually what I wear to work. I just slip on my scrub top. We're standing for most part of the day so no heels, definitely.
S: Do you think your styles have changed at all since you got a dog? We see that Martin's wearing a shirt with French bulldog prints, and Alice is wearing similar earrings.  
M: Yeah I purposely bought this because it was a Frenchie.
A: We definitely look out for more doggy stuff. We'll be like "Oh my god, that's a pug! And there's a Frenchie."
M: We'll go to online shopping sites and search for "Pug" or "Frenchie". Purposely one.
This is a Shentonista project in support of Save Our Street Dogs Singapore.
The next SOSD adoption drive will be the SOSD Flag Day on 28th February 2016, at *Scape Youth Park. The event runs from 9AM-6PM, with the drive running from 11AM-5PM.
If you would like to contribute to SOSD and support their cause of giving stray dogs a loving, caring home, please visit here. Kindly reference ShentonistaxSOSD when making your donation. The dogs thank you!
Here are two of SOSD's dogs that are looking for a new family: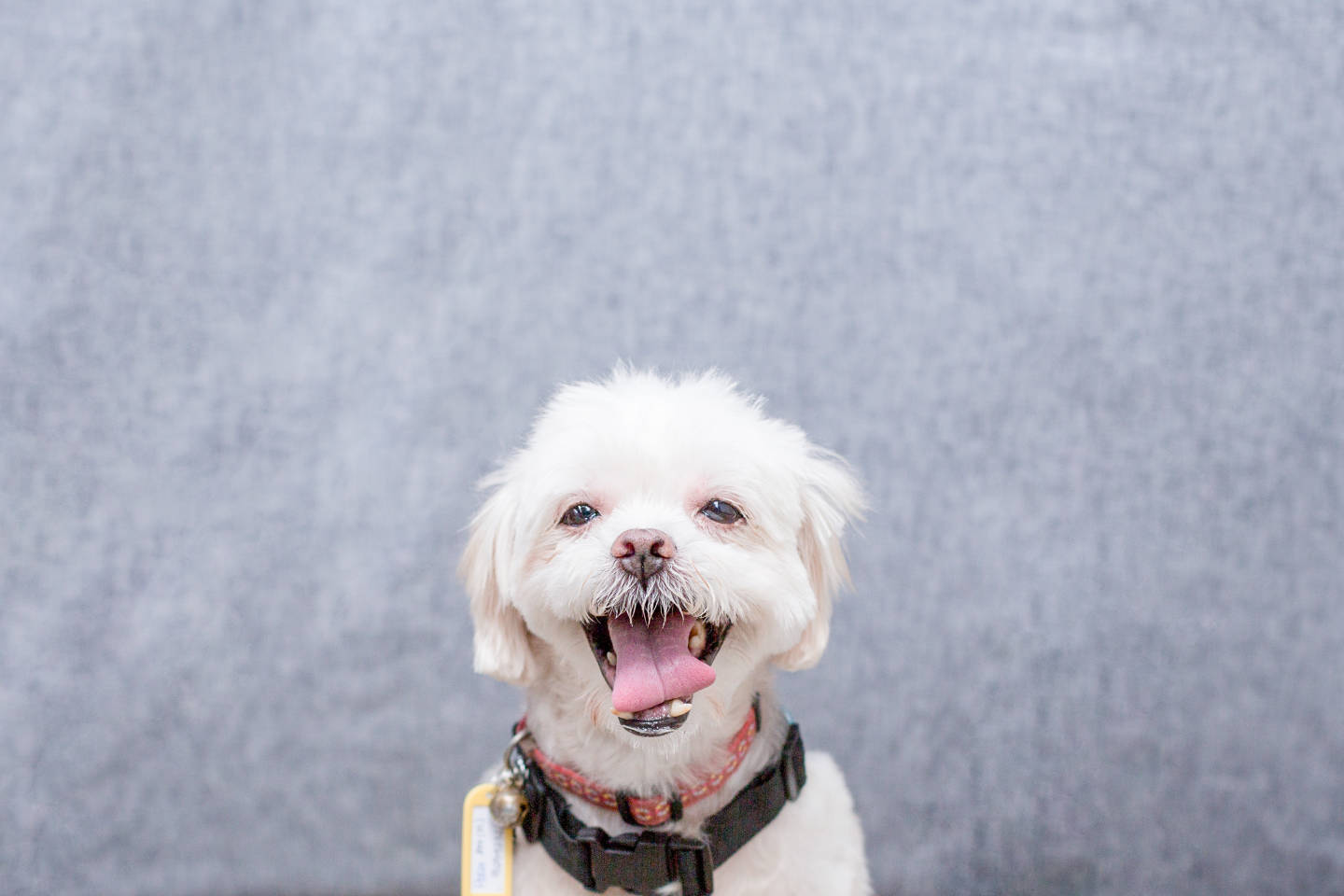 Art
Male, HDB-approved
Art is a grand old gentleman — 9 years old, but still as loving and curious as a young one. Art's favourite things to do are chilling out and sleeping, but when there're people around, he can't help but be drawn to them. He was always sidling up to his trainer or us when we tried to take his photo!
Update (15/02): Art has found a forever home.
Bambi
Female, HDB-approved
Bambi is 5 months old, and as her trainer describes, "very, very affectionate". With her friendly nature, she gets attached to people very quickly; with her mid-energy levels, she's a mix of active and focused.
View more of our furry friends looking for forever homes on the Shentonista Facebook, here.
What others are saying
There are no comments yet.