The Business Times X Shentonista — Behind-The-Scenes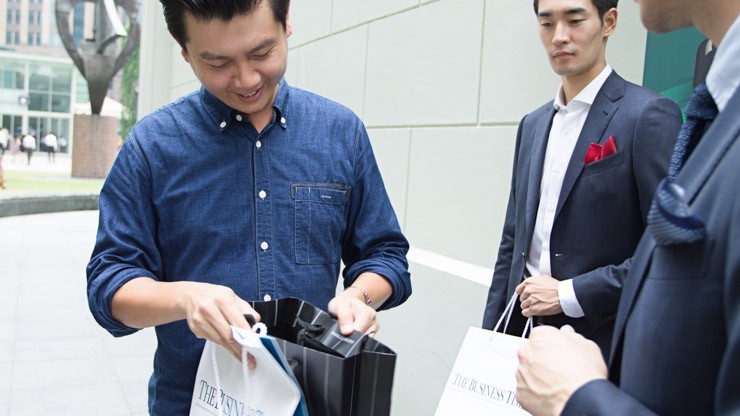 Here's a look at what went on behind the scenes of Shentonista's latest collaboration with The Business Times. It was a full-day affair as we hit the streets with the help of our models, sharply dressed in Ermenegildo Zegna, and set out to spread the word. We met with executives and entrepreneurs in and around the central business district, shared about the all-new Business Times, and spoke to them to find out how and why they do what they do.
First up was Alexis, who put us all in a good mood with her sense of humour and wit. We then met Yong, who gamely posed for his photos despite the increasing heat. Charmaine then charmed us with her easy-going personality, and had everyone cooing over her baby bump. Fiona caught our eye with her bright-coral top and ready smile, and Y.C. was all laid-back cool in his rugged denim look. Farah was poised and elegant as always, and the sweet Samantha was a breeze to shoot. We met Pat by the river, in her tailored navy-blue jacket, and had a good chat; up next was Samuel, whose friendly demeanour served as a timely pick-me-up for the crew. Rounding off the day was No'man, whose natty vest and boyish grin we spotted from afar.
A Shentonista Project and UNIFORM Production.
For The Business Times
Supported by Ermenegildo Zegna
For a look at all the previous features from the campaign, click here.
To see what's new for The Business Times, visit here.
Read our Shentonista feature in The Business Times here.
Featuring Charmaine, Y.C., Farah, Alexis, No'man, Pat, Yong, Fiona, Samuel, and Samantha.
Models: A.J., Dennis, Wilfred, Shin Woo
Hair by Rick Yang
Makeup by Raudha Raily Mahmud
What others are saying
There are no comments yet.