We Need A Hero X SHENTONISTA — Behind-The-Scenes Of 'Everyday Heroes' (Part 1)
This campaign was a long time in the making. We had always wanted to capture the everyday man on the street, the ones who work hard for a living, in jobs that sometimes don't appeal to everyone, in contrast to the usual polished professionals that we shoot at Shenton Way. But first we had to find these men — we scoured the streets, car repair workshops, neighbourhoods and heartlands, industrial factories, and hawker centres, and finally found our five Everyday Heroes. The goal was to give them a complete makeover, and at the same time, allow them to share their stories with us, shed some light on what they really do, and with hope, allow everyone to greater understand and appreciate what these men do.
We started by bringing them down to the Fred Perry store for a fitting. We picked out some outfits that we felt would best represent the men, making them look like more dressed-up, glamorous versions of themselves. The wide range of clothes in the store meant that we were able to create a distinct look for each of the men, and they gamely tried on different items of clothing until we could all settle on something that we agreed upon.
The Everyday Heroes campaign involved two rounds of shoots — we first visited each of the candidates at their workplaces, and photographed them as they are, at work; the next day, we brought them down to We Need A Hero for a complete grooming and styling session.
Day 1
The first location we visited was Jia Ming's fruit store in Geylang, where he posed for his photo, surrounded by all kinds of fruit, his amused colleagues, and curious passersby. While stiff at first, and flashing the occasional, nervous thumbs-up, he loosened up towards the end, and cooperatively moved around the store even though it was a tight fit for him and the crew.
After that, we made the trip over to Hougang, where Rooban's father's food stall was located. It was the busy lunch period, and as we were blocking some of the passageway while we were shooting, quite a crowd had gathered around the stall. Inquisitive aunties asked us whether we were filming a movie or a TV series, and even we had to admit that we were a rather strange, sweaty sight to be seen in the neighbourhood.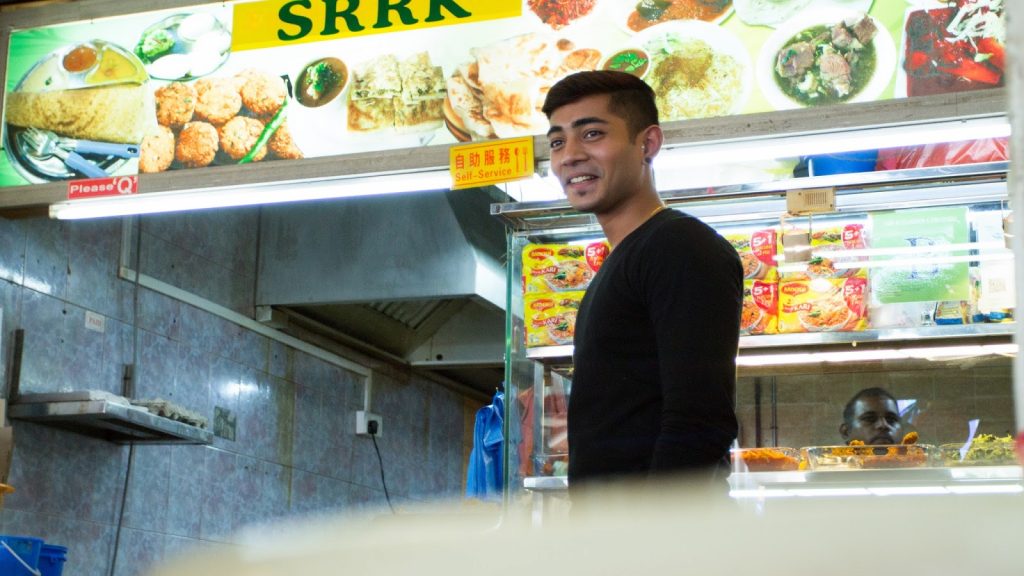 It was then time to visit Mr. Yamaguchi Taro at his cobbler stall at Yishun Bus Interchange. The old man obligingly took several puffs of his well-worn pipe for the shot, and showed us his sweet, considerate side when he bought the team a round of Coca-Cola to counter the afternoon heat. He seemed quite used to being photographed, and we noticed a row of newspaper clippings pinned to his makeshift shelter.
We had a bit of trouble getting hold of Htung Aung at first. As a landscaper, he's rarely in the same place the whole day, and with his limited command of English, could only vaguely tell us that he would be around Angullia Park in Orchard. We found his company truck parked along the road, and met Htung Aung after he had emerged from a bout of meetings. Shooting with greenery wasn't something that we were accustomed to, but Htung Aung patiently tried out a variety of poses until we got the shot that we needed.
Shuk was the final person to be shot for the day, and we visited him at one of the pizza outlets that he works at. Amicable and good-natured, he wheeled his trusty bike over for the shot, making minor adjustments here and there so that we could frame it just right. His bright, infectious smile got us all wondering which brand of toothpaste he uses; and for the record, the guy is born with it — he's never worn braces.
Stay tuned for Part 2 of our behind-the-scenes feature tomorrow. To view all posts from the campaign, visit here.
This is a Shentonista project for We Need A Hero, supported by Fred Perry.
To find out more about We Need A Hero, visit their site here, and their Facebook page here.
For more information about Fred Perry, visit their site here, and their Facebook page here.
What others are saying
There are no comments yet.