Shentonista Of The Year 2021 — The Making Of
Featuring
Nadirah, Pann, Rynthia

The world might always be changing, but one constant we're thankful for year after year is you, our Shentonista community. A couple months ago, we invited you to stroll down memory lane with us as we rounded off 2021 with our annual Shentonista Of The Year. As always, we let you make the call in voting for your favourite Shentonistas, and crowned three winners in three different categories this year—Favourite Look, Best Lesson Learnt, and Most Memorable.
Shortlisting candidates is always a difficult task, but we can always count on our readers to narrow down the pool for us. There were definitely some crowd favourites, like our Favourite Look winner, Nadirah. With a personality as bright and happy as the purple pantsuit set that first got her featured on Shentonista, we can definitely see why she won over so many of our readers. In our Most Memorable category, Rynthia took the lead early on with her charming, candid nature and fierce independence—a role model to many of us. And of course, no edition of Shentonista Of The Year would be complete without taking a look back at some of the nuggets of wisdom imparted by our very own community. It was a nail-biting toss-up during both rounds of voting, but Pann eventually emerged as our winner with his simple, down-to-earth honesty.
To commemorate the end of a tumultuous year, we decided to be a bit more experimental with this year's shoot and explore what each of our winners would be like as avatars in the metaverse. We first sat down with them for a short chat to get to know more about their interests and hobbies, their childhood, and what inspires them. Then, armed with a fisheye lens, some crazy ideas, and a bunch of fun wardrobe pieces from The Fashion Pulpit, we got to work transforming our three winners into stylised avatars based off their alter egos.
First up on set was Nadirah, who remained as bubbly and energetic as ever even at 8AM in the morning. The avatar we selected for her was largely based off the 1960s, which is the era of fashion that Nadirah draws the most inspiration from in her everyday style. With a bold pair of fringe boots, bright sequinned bustier, and textured cream vest from The Fashion Pulpit, we knew we just had to go for a futuristic space-age look for Nadirah.
Throughout our shoot, we chatted with Nadirah about anything and everything—from her new job to her potential travel plans, and made our early morning shoot that much brighter. In front of the camera, she switched from pose to pose with ease, and our session with her flew by just like that.
Next up on set was Pann, who dropped by in between a full day of work and meetings. We caught up briefly with him about his work and life in general, before whisking him off to get his hair and makeup done. Already pretty much dark and grungy in his everyday life, we chose to just play up this aspect of Pann's style with wild, windswept hair, smokey eyes, an oversized blazer from The Fashion Pulpit, combat boots, and a sheer, patterned wrap skirt for a pop of colour.
Despite his busy schedule, Pann never failed to reaffirm us constantly throughout the shoot, acceding to our many requests and trying out different props and poses while half blind (yup, we shot him without his iconic glasses). Though the many layers of his look limited his movements at times, Pann felt right at home with an electric guitar in his hands. Like a true rockstar, Pann carries guitar picks with him wherever he goes, and in between shots, we caught him jamming out quietly on his own, revelling in the joy of the comfort of a familiar activity in a foreign space.
Our final shoot of the day was with Rynthia, who strolled in with just her phone and wallet in hand, having left the office early for our shoot. Dressed in all black like when we first met her, Rynthia tells us that this is the brightest she's ever had her makeup done, and excitedly snaps selfies to send off to her partner. Fun-loving and naturally giggly, we chose to bring out Rynthia's inner child with this look by basing her avatar off Reggie Rocket, the iconic female badass in Rynthia's favourite childhood cartoon series, Rocket Power.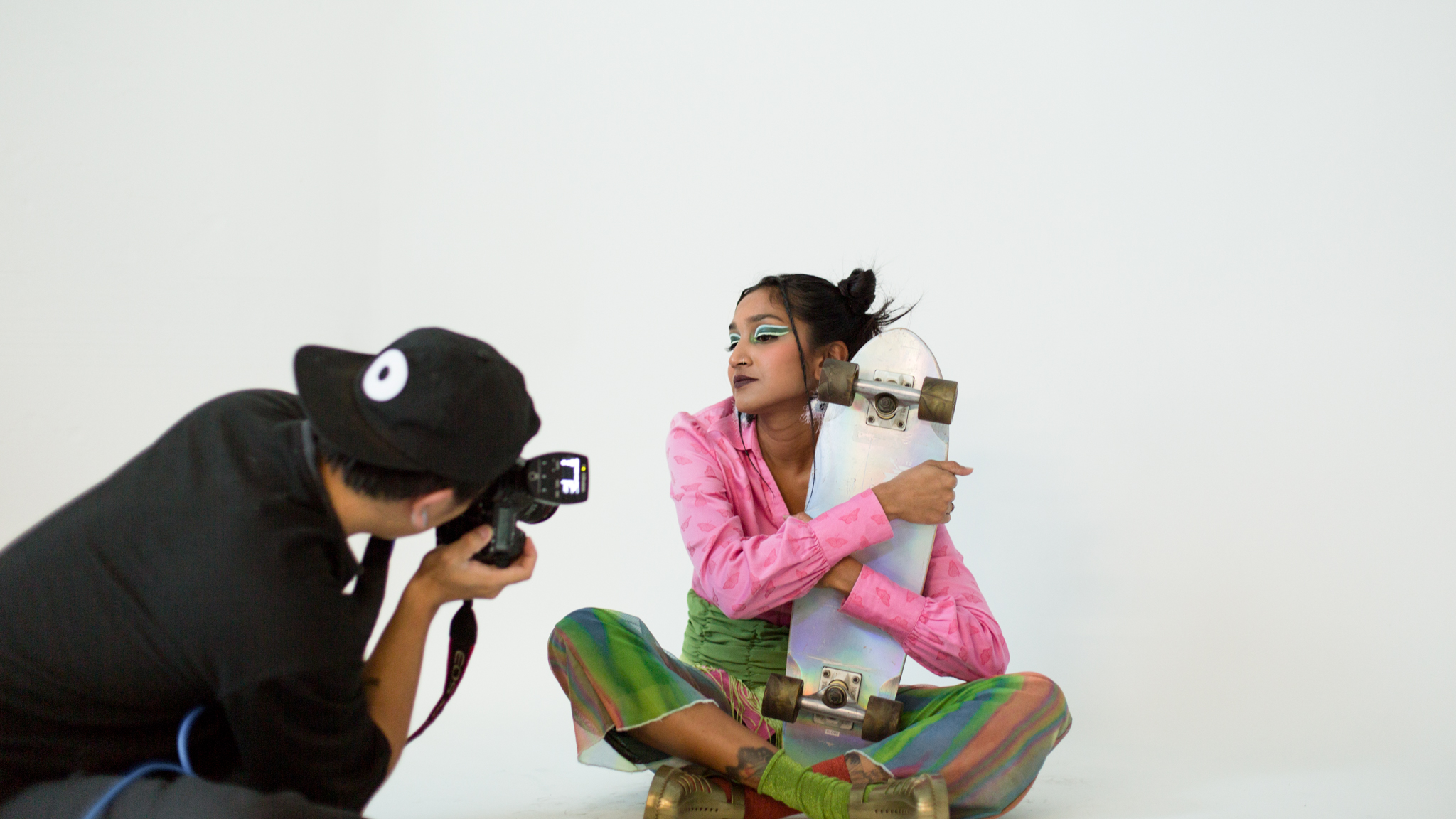 Complete with a bright pink top and lime green fringe tube from The Fashion Pulpit, as well as a snazzy skateboard and mismatched socks, Rynthia pulled off our funkiest look of the day effortlessly. Whether she was standing, crouching, sitting, or just playing with her hair, Rynthia delivered shot after shot, and was a ton of fun to work with. After the shoot, she even requested for a group photo with the team before heading home for some quality family time.
Full-day shoots are never easy, but we had such a great time catching up with our three winners. To Nadirah, Pann, and Rynthia, thank you for coming on board and being a part of this—we hope you enjoyed the shoot experience as much as we did! We'd also like to thank our wider Shentonista community for participating in this year's edition of Shentonista Of The Year. We appreciate all of your likes, shares, votes, and comments, whether it's to support a friend or a stranger you admire. Your support is what keeps us going year after year, so as we continue on with our year, we hope to be able to meet even more of you, and to continue sharing your stories the best way we know how.
Special thanks to our wonderful collaborator, Raye of The Fashion Pulpit, for the many fun wardrobe pieces and accessories, and our lovely hair and makeup artist Yingcui, for turning our crazy visions into reality.
Products used: Anastasia Beverly Hills and Kevin Murphy Singapore.
See all posts from Shentonista Of The Year 2021 here: Nadirah, Pann, Rynthia.
What others are saying
There are no comments yet.